Course Maps:
All races start at 9 a.m. The Marathon and 10K racers start on Lake Street in front of the Newfound Memorial Middle School located at 155 N. Main St, Bristol, NH 03222. The course proceeds north on Rte 3A, and the 10K racers turn at the appropriately marked turns and return to the finish at Kelley Park.
The marathon runners continue on 3A north to North Shore Road (8.3 mi) and turn left toward and through the village of Hebron and continue straight on to the turnaround (13+ miles). After retracing the route back to Hebron, the course turns south along the west shore of Newfound Lake, rejoining Rt 3A (24+ miles) at which point it retraces the route back to the finish line turning left on to Union St., right on to North Main and right to the finish at Kelley Park.
View the Race http://www.viewtherace.com/new-hampshire/new-hampshire-marathon
Half Marathon will start beyond Sculptured Rocks. See Map below.
Important Notes
If you are running the half marathon, registration opens at 7:00 a.m., and the bus leaves at 8am SHARP to bring runners to start.
Our race now has a seven hour cap on time.  Runners on course after seven hour mark will not have support or finish line services. An early start can be arranged in advance.
Race Map  https://ridewithgps.com/routes/30754160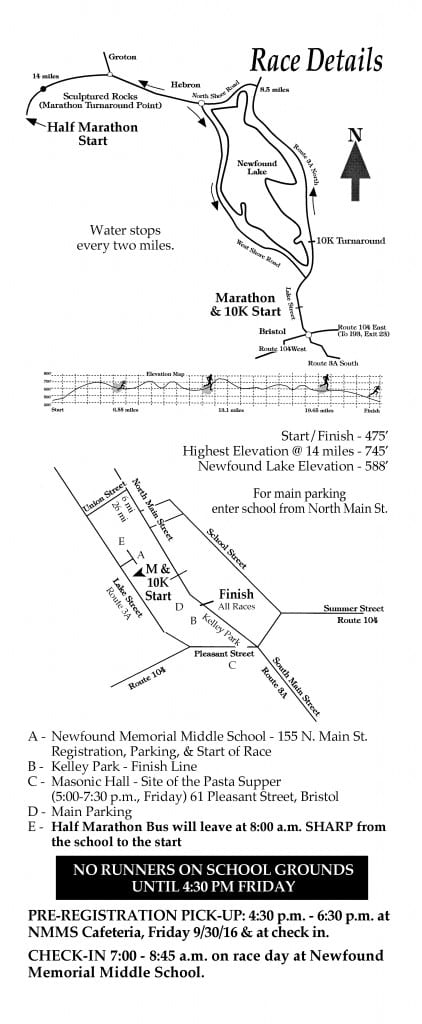 WATER STATIONS: